Yellowcake and bananas ahead of green talks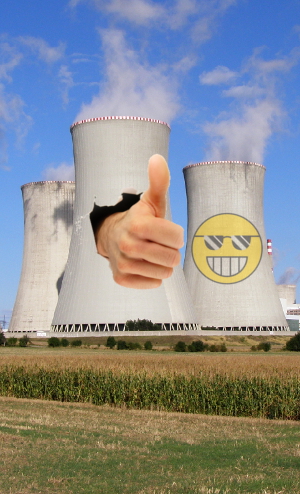 UPDATE 04/12: Newspapers are reporting that Foreign Minister Julie Bishop "went bananas" at the Prime Minister, after reading that Trade Minister Andrew Robb would be "chaperoning" her to the Lima talks to prevent her from over-committing to any climate change agreements.
The Australian Financial Review covers the development here.
ORIGINAL: Foreign Minister Julie Bishop has revived one of the most contentious topics in the Australian political debate – nuclear power.
"It's an obvious conclusion that if you want to bring down your greenhouse gas emissions dramatically you have to embrace a form of low or zero-emissions energy and that's nuclear, the only known 24/7 baseload power supply with zero emissions," she told Fairfax Media on the weekend.
The question was about Australia's options for reaching carbon-reduction targets, ahead of her trip to the United Nations climate conference in Peru this week.
At the summit, Australia is expected to face pressure to announce climate targets that last beyond 2020.
It may be a chance for Australia to redeem its ragged reputation for environmental policy, which experts say has damaged international opinion.
Speaking to News Corp this week, The Climate Institute's deputy chief executive Erwin Jackson said Australia has been "standing out like a sore thumb" and "walking backwards while most other nations have been moving forward".
"Most of the world has recognised that this is a serious threat that needs to be recognised in concerted and ambitious ways. The actions Australia is taking at the moment are not consistent with a fair, effective and ambitions response to avoiding climate change," he told reporters at the opening of the Lima summit.
Ms Bishop said a robust, zero-emissions baseload power source was needed even to hit the 2020 renewable energy target – which the Government is attempting to cut.
"I always thought that we needed to have a sensible debate about all potential energy sources and, given that Australia has the largest source of uranium, it's obvious that we should at least debate it," she said.
"France is considered as one of the greenest countries on Earth [and] has a significant proportion of its energy from nuclear energy."
Local expert Giles Parkinson has written about the challenges of a nuclear option for Australia in an extensive piece covering Ms Bishop's comments, the true costs of nuclear power and the risks involved.
Federal Environment Minister Greg Hunt claims that while nuclear power is not currently Coalition policy, he is supportive of the debate.
The most recent official government debate on nuclear power came in 2006, when a review headed by business figure and nuclear physicist Ziggy Switkowski claimed it was "a practical option for part of Australia's electricity production" and could get off the ground within 10 to 15 years if it had popular support.
Dr Switkowski has reiterated this opinion, praising Ms Bishop's comments and saying "nuclear power simply has to be in the mix in Australia's energy future".
He says the game has changed since Chernobyl, and even Fukushima.
"Small modular reactors will provide a real opportunity to consider nuclear power again, because they are a tenth of the size of a nuclear or coal-fired powered station," he said.
New small modular reactor designs answer some of the common concerns about nuclear power – the size, waste, proximity to population centres and the risk of a catastrophic accident.
Some say the debate comes too late, arguing that fully-renewable options will surpass nuclear power by the time Australia gets around to building any reactors.
But it appears that the LNP may be moving away from a previous plan, which some suggest is the way forward for atomic energy.
In the Coalition's pre-election energy white paper it pledged to address issues of energy security by examining the potential use of thorium as an energy source.
"Thorium can be used as an alternative source of fuel for energy generation and possesses an energy content that can be utilised almost in its entirety," the papers say.
Energy experts say thorium is decades away from deployment, unless a greatly-increased research regime was created.
Labor MP Alannah MacTiernan has told Fairfax that she would like to see uranium mining expand in her home state of Western Australia.
"Nuclear has nowhere near the risks of spewing coal into the atmosphere," she said.
"But I personally don't see there's any point [to nuclear] when we have so much gas and renewable energy," she said.
ANU economist Dr Frank Jotzo backed Ms Bishop's comments too, saying it was evidence of "mounting pressure on the Australian government to make some positives contribution to the international climate policy discussion".
"At this point time renewables are cheaper, however, as you move to a carbon-free electricity sector we need to push much further in the expansion of renewable energy sources and depending on the costs of both a mix of renewable and nuclear could be a cost-effective option in the future," he said.