Pole fires plague Perth
Print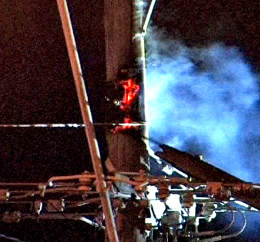 Compensation has been offered after over 14,000 properties in Perth and surrounding areas were left without electricity.
Light rain combined with dust triggered power pole fires across Perth last week. Experts from Western Power say the misty rainfall cut tracks in the dust on poles, allowing the current to arc or spark.
Normally this would trip a safety device that cuts the power, but these still allow some current to continue to flow, heating up metal fittings and bolts that can then ignite parts of the pole.
"Rather than misty rain, if there had been a downpour it would have washed the powerlines and insulators," spokesperson Jillian Reid said.
Western Power asset manager Sean McGoldrick said "if there is an extended outage beyond 12 hours there is a compensation scheme available."
Western Power spends about $400 million a year on maintenance of its poles and wires, but says it is not practicable to wash all of over 800,000 poles in its network.
It is putting power lines underground where possible, and applies silicon to tens of thousands of insulators each year to prevent dust build-up, mostly in bushfire-risk areas.