Last checks and tests ahead of big solar sprint
Print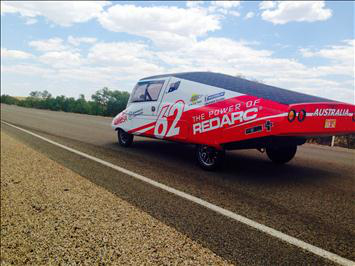 Dozens of solar-powered car crews have been pushing themselves to the limit ahead of the World Solar Challenge.
The World Solar Challenge is a biennial race from Darwin to Adelaide, which puts the world's best solar technology to a rigorous, real-world test.
They certainly stand out on roads normally dominated by Land Cruisers and road-trains.
The race has two classes - the challenger class, in which a single-person car aims to finish the 3,000 kilometre course in the shortest time, and for the second year running - the cruiser class.
Cruiser class cars are closer to the sun-powered cars of tomorrow, as they must carry two occupants in a test designed to more closely resemble real-world driving.
Team Bochum – students at an elite German technical university - came second in the 2013 cruiser race.
They say they hope their car - SunRiser – will do better this time.
"For every challenge we're going to build a new car," driver Raphael Schniewind said.
"I think we are well prepared for the race."
While the Germans' design has a top speed of about 140 kilometres per hour, it lacks a lot of comforting amenities.
There is no air conditioning or any other fanciness inside, as all the power is saved for the engine.
There are a number of Australian entrants in this year's race, including teams from; UNSW, Adelaide University, Western Sydney University, Clenergy, and TAFE SA.
The race to Adelaide begins on October 17.