IPCC issues food warning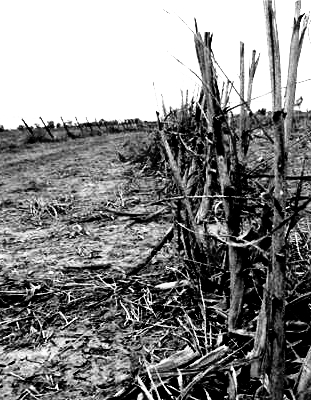 The latest IPCC report suggests mankind may have to change the way it eats.
The report from the UN's Intergovernmental Panel on Climate Change (IPCC) investigates the relationship between land use and climate change, concluding that global food practices need to be more sustainable.
That experts say that addressing climate change should be able to improve land, food security and nutrition, and help to end hunger.
The report highlights that climate change is affecting all four pillars of food security: availability (yield and production), access (prices and ability to obtain food), utilisation (nutrition and cooking), and stability (disruptions to availability).
"Food security will be increasingly affected by future climate change through yield declines – especially in the tropics – increased prices, reduced nutrient quality, and supply chain disruptions," said Priyadarshi Shukla, Co-Chair of IPCC Working Group III.
"We will see different effects in different countries, but there will be more drastic impacts on low-income countries in Africa, Asia, Latin America and the Caribbean," he said.
The report finds that about one third of food produced is lost or wasted.
Causes of food loss and waste differ substantially between developed and developing countries, as well as between regions. Reducing this loss and waste would reduce greenhouse gas emissions and improve food security.
"Some dietary choices require more land and water, and cause more emissions of heat-trapping gases than others," said Debra Roberts, Co-Chair of IPCC Working Group II.
"Balanced diets featuring plant-based foods, such as coarse grains, legumes, fruits and vegetables, and animal-sourced food produced sustainably in low greenhouse gas emission systems, present major opportunities for adaptation to and limiting climate change," she said.
The report finds that low population growth, reduced inequalities, improved nutrition and lower food waste, could enable a more resilient food system and make more land available for bioenergy, while still protecting forests and natural ecosystems.
However, without early action in these areas, more land would be required for bioenergy, leading to challenging decisions about future land-use and food security.
"Policies that support sustainable land management, ensure the supply of food for vulnerable populations, and keep carbon in the ground while reducing greenhouse gas emissions are important," said Eduardo Calvo, Co-Chair of the Task Force on National Greenhouse Gas Inventories.
More than 100 experts from 52 countries prepared the report, drawing on work from 96 authors.
The Federal Government says Australia is already doing well.
Emissions Reduction Minister Angus Taylor pointed to the current state of land management.
"This is a very, very important success story in Australia. Farmers, in particular, haven't been given the credit they deserve for the role, the enormous role, they've played on this front," he told the ABC.
The minister brushed off concerns about the role that meat-heavy diets play in climate change, accusing the UN of "forcing" people to become vegan.
"We're not going to tell people what they should be eating, that's just not the role of government," he said.
Environmental lobby group Farmers for Climate Action want the Federal Government to come up with strategy specifically for climate change and agriculture, and more clean energy.
"With NSW marking one year since it was 100 per cent drought-declared ... and farmers across the country hurting from droughts, heatwaves and other extreme weather events, it is clear that climate change is already hurting Australian agriculture," the group said in a statement.
"Farmers are adopting climate-smart agricultural practices, including soil carbon sequestration. But agriculture cannot be left to carry the burden on this alone."
The full report is accessible here.