NAB chief highlights coal risk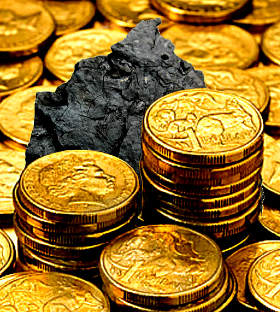 NAB's CEO has explained why the bank is moving away from coal investments.
In a recent parliamentary hearing, Federal MP Craig Kelly asked NAB CEO Ross McEwan why the bank is not lending more money to Australian coal mines.
Mr Kelly is a staunch supporter of fossil fuel industries, and frequently questions humanity's impact on its environment.
NAB currently has around $700 million worth of thermal coal assets on its loan book, and plans to reduce that figure to $350 million by 2028, and to $0 by 2035.
Mr Kelly wanted to know how NAB can tell coal mines would be unprofitable in 15 years.
"To be fair, whether or not a particular coal mine will be profitable in 2035, takes a pretty good crystal ball to see what the future is going to be," the Federal Government backbencher told the banker.
"And you're taking a policy step now that specifically rules out loaning for that particular business that may very well be successful and profitable for many years to come, and in the national interest, and you're ruling it out."
Mr McEwan said the bank is not predicting the future profitability of the coal industry. Rather, he said the bank is focused on managing risk.
"From a risk perspective, this bank, quite rightly I believe, has tilted itself much, much towards renewables [because it's] where we see the future for this bank and how we fund," he said.
The bank boss said the best interests of Australia are served by transitioning away from thermal coal.
"We've made a strategic decision from a banking perspective to tilt our business towards renewables," Mr McEwan said.
"Just as in our financing of aircraft we have tilted towards lower-emission aircraft which are much more efficient.
"Just as we are working with the agricultural sector to get much, much more efficient and carbon neutral in the production of meat, so it's just not one industry.
"We're working across the industries to get a better result for, coming back to your point, for Australia.
"It's why we're moving ourselves as a bank to be carbon neutral over a number of years, because we think these things will make a lot of sense financially for us and for our customers over time.
"We think about the long term, where we think the future value … will be, and it will be towards renewable energy," Mr McEwan told Mr Kelly.