Dam funds flow on party lines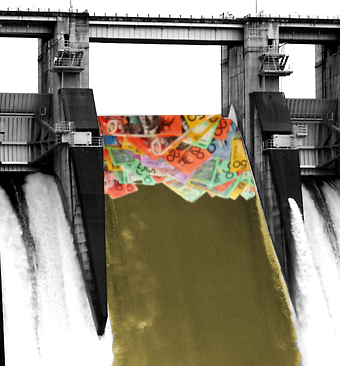 Reports say money for a Queensland dam project has been funnelled to LNP-linked firms.
Questions have been raised about $12 million in federal money that was granted for planning the latest version of the Urannah dam scheme.
The idea of building a massive dam at Urannah Creek, on Queensland's central coast, has been bandied about since the late 1950s, and most recently has been championed by prominent Nationals MPs.
Local conservation groups have laid out a litany of risks associated with the decades-old idea.
But LNP figures such as George Christensen, Barnaby Joyce and the state LNP leader, Deb Frecklington, have all thrown their weight behind the latest iteration of the Urannah plan – a $2.9 billion plan for a 1.5 trillion litre dam, pipelines, irrigation and pumped hydro electricity.
Since the 2019 election, the federal government has given $12 million from separate grants towards the planning process.
However, something the LNP has not publicised is that fact that the money ultimately flowed to a firm run by prominent Queensland Liberal National party figures and donors. It made its way there through a series of opaque funding and subcontracting arrangements.
Earlier this year, federal energy minister Angus Taylor announced $2 million would be provided for a feasibility study looking at a hydro electric plant as part of the Urannah scheme.
Renewable Energy Partners Pty Ltd was identified in official documents as the proponent of that project. A separate company, Blue Hydro Project Ltd, was also asked to apply for the same feasibility study grant.
Blue Hydro Project is a subsidiary of Bowen River Utilities, which holds 80 per cent of its shares, with Renewable Energy Partners owning the remaining 20 per cent.
Additionally, in the leadup to the 2019 federal election, deputy prime minister Michael McCormack announced $10 million would be put towards a business case for the overall Urannah project.
That funding was formally granted to Bowen Collinsville Enterprise, which handed the funding it directly to a Bowen River Utilities subsidiary, Urannah Water Scheme Pty Ltd.
Urannah Water Scheme was paid $10 million as a subcontractor to complete the preparatory work on its own proposal.
Bowen Collinsville Enterprise is allowed to handle the funds in this way, but questions have been asked about why Bowen River Utilities or its subsidiaries were not mentioned in official media releases.
The recipient of the federal grants – Bowen River Utilities – is run by John Cotter Jr, a former member of the LNP executive.
There is no suggestion that Bowen River Utilities or any associated individual has acted improperly, or was ineligible, but integrity experts have questioned the process that has hidden the ultimate beneficiary and its links to the LNP.
Anthony Whealy, a former New South Wales supreme court justice and the chair of the Centre for Public Integrity, has told reporters for Guardian Australia that the ultimate recipient of any grant should be spelled out.
"The failure to do so raises serious integrity issues, given the links between the LNP and Bowen River Utilities," he said.
Bowen River Utilities also employs Jason Frecklington, the husband of Deb Frecklington (leader of the LNP in Queensland).
Additionally, until July last year, most of the companies proposing the Urannah scheme were previously owned by Initiative Capital - which is owned by Mr Cotter and his wife, Regina.
Several Bowen River Utilities staff including Jason Frecklington list their employer as Initiative Capital on LinkedIn.
"The absence of an effective federal anticorruption body precludes proper investigation into the grants," Mr Whealy said.