Solar hits top score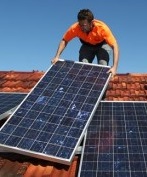 A record 3.5 million solar panels were installed on Australian rooftops last year.
The 1,057 megawatts of capacity - the equivalent output of a medium-sized coal-fired power station - installed nationwide smashed the previous record from 2012.
New figures from the Clean Energy Regulator show about 9,500 panels are being installed every day.
The authority also says the average system size has doubled to six kilowatts since 2012.
Clean Energy Regulator executive general manager Mark Williamson says the increasing interest in renewables is good news for reducing carbon emissions.
'We are seeing a wide cross-section of Australians – households, community centres, schools, and small businesses – receiving incentives under the Small-scale Renewable Energy Scheme," he said.
"Our data shows consumers are embracing renewable energy to take control of their electricity bills."
In 2017, there was a 41 per cent increase in installed renewable energy capacity across all states and territories compared to 2016.
Queensland led the way with installed capacity at 295 megawatts, with the Australian Capital Territory taking top place for biggest annual increase, up 57 per cent.
"The data collected by the Clean Energy Regulator in 2017 reflects the industry is going from strength to strength. It looks like 2018 will be another big year for the solar industry," Mr Williamson said.