Energy study shows game changing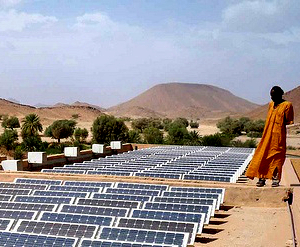 A new report shows almost half of the new power plants built in 2014 were for renewable source of energy.
It is a "clear sign that an energy transition is underway", according to the International Energy Agency (IEA) report.
Green energy is one of the largest sources of electricity in the world, second only to coal, and it is on track to outstrip the highest-emitting fossil fuel in the early 2030s, says the IEA's World Energy Outlook 2015 report.
"The biggest story is in the case of renewables," said IEA executive director, Fatih Birol.
"It is no longer a niche. Renewable energy has become a mainstream fuel, as of now."
He said 60 per cent of new investments last year went into renewable energy.
However, $490 billion of fossil fuel subsidies were paid in 2014, removing a chance at "fair competition".
As the energy game changes, the IEA predicts the price of oil will increase from its current level of $50 a barrel, up to $80 by 2020.
The IEA foresees oil exploration and production investment falling by 20 per cent in 2015, with high cost projects in the US, Canada, Russia and Brazil being placed on the shelf.
US shale oil producers appear likely to move back into profit though, reaching prices of $60-$70 a barrel.
The IEA says that if the oil price stays close to $50 per barrel for over a decade, cheap supplies of oil from the Middle East will reach a 75 per cent market share.
But Birol said that scenario was "unlikely".
"Now is not the time to relax," he said.
"Quite the opposite: a period of low oil prices is the moment to reinforce our capacity to deal with future energy security threats."
The rapid rise of renewable energy will allow a dramatic slowdown in the growth of carbon emissions, the IEA said.
However, just a few weeks out of the UN climate change summit in Paris, the IEA calculates that the world is still on track to see 2.7°C of global warming, well over the 2°C many scientists say is the threshold of dangerous and irreversible warming.
"A major course correction is still required," the report says.