CSIRO jobs back on the block
Print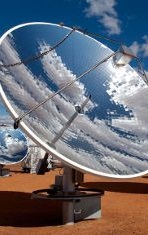 The Coalition Government has put over 100 CSIRO jobs on the line again.
The Government included proposed cuts to Australian Renewable Energy Agency - the clean energy research agency - in this week's 'omnibus bill'.
It comes just weeks after Science Minister Greg Hunt instructed CSIRO to focus on climate science once more, something he sees as a "bedrock function" of the agency's activities.
ARENA was set up under the Gillard Government in 2012 to fund research into renewable energy, until the Abbott government tried to abolish it.
While it managed to survive the chopping block, the Coalition is now seeking to strip $1.3 billion of funding and merge it with the Clean Energy Finance Corporation.
The CEFC expects financial returns on money it invests.
"CSIRO is heavily involved in cutting-edge energy research that will benefit ordinary Australians now and into the future, including the National Solar Energy Centre in Newcastle and the Australian Solar Thermal Research Initiative," said Community and Public Sector Union Assistant National Secretary, Michael Tull.
"Slashing ARENA is a short-sighted decision that will have terrible flow-on impacts.
"CSIRO and ARENA are essential to creating renewable energy jobs and making energy more affordable for all Australians.
"ARENA funding accounts for more than 40 per cent of CSIRO's energy research, and more than 120 scientists' jobs will be at risk if ARENA is cut."