Big uranium spot gets bigger, more dense
Print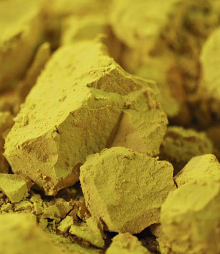 Uranium explorer Vimy Resources says uranium quality at their Mulga Rock project is a fair bit higher than expected.
The Mulga Rock Uranium Project covers two exploration leases (Princess and Ambassador) for a total of 757 square kilometres.
Vimy has previously heralded Ambassador as one of the largest uranium deposits in Australia, and this claim appears to be holding true.
In-fill drilling assays have shown a 30 per cent increase in the average grade of uranium on earlier tests, causing them to revise the figures from 469ppm to 610ppm.
The estimated size of the Mulga Rock resource has been increased too, up 33 per cent for a total estimate of 37.5Mlbs of uranium across the project.
"The results have enhanced our geological understanding of the deposits and the controls on mineralisation that will be put to good use in future drilling programs," Vimy Resources managing director Mike Young told reporters.
"The increased grade, contained metal, and upgrade of almost 60 per cent of Ambassador to Indicated status may have a significant positive impact on the project's economics which are currently the subject of an ongoing study.
"When these results are coupled with the recently announced advances in the metallurgical test work, then the true potential of Mulga Rock Uranium Project starts to become clear."